Today was my last day as both moderator and member here on this most exceptional, distinct and resolute Rebel base.
 
For a while now circumstances in my life (and likely many of yours too) have changed somewhat - and continue to evolve… unfortunately to the point of me no longer being able to give the time, energy and commitment that this fantastic outpost of Star Wars geekdom requires, and also deserves.
That, coupled with an ongoing agenda / a series of events by a small clique of people… ranging from sniping, insults, personal attacks, groundless accusations… and me being targeted for information and supposed 'dirt' on here, other places I frequent online, and attempts to find information about me in real life too. This culminated in two malicious phone calls made to my home last week - to which Mrs ooj answered and had the misfortune to deal with.
Star Wars, eh?
So, in a bid to bring about an end to this ongoing obsession that some sad 'devotees' have with me… I have decided the best option available is not to play - to remove myself as a target. Those who chose to engage in this bizarre stalking-like / agenda-driven behaviour (which goes way beyond any genuine criticism or differing points of view on my mod / posting style) will have to find someone or something else to obsess over - or maybe even move on and do something a little more constructive with their lives. Once you start down the dark side…
So many negative waves…

Despite the above, much of my time here has been an enjoyable, compelling, eventful and also an eye-opening experience - I consider myself both fortunate and honoured to have been a mod on here - for around 3 years now (on and off 😉) - and also a member here for 16 years.
Many positive waves are being sent to the 99% of the community here - from the site's early days through to friends made in recent weeks - all you Rebels make the unseen hard work in helping maintain and run this great place all the more worthwhile.
So much has been achieved here, all by us, this dedicated and determined community of fans… aiming to put right what Lucas seeks to deny, dismiss and denigrate - and to also correct and highlight Lucas' revisionist history of the Original Trilogy films.
Long may all of our efforts and contributions on here continue - and endure… 👍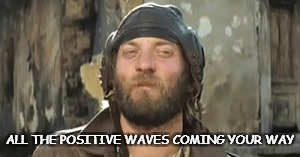 Massive thanks and kudos to fellow mods Anchorhead, SilverWook & Tobar for their relentless work in helping make this intrepid Rebel Base what it is - and also for their friendship and support. Huge respect to former mods Moth3r and Zion for their sterling efforts and setting a high bar to follow. And of course to Jay too - who made all of this possible in the first place - and carries on with admin duties even today.
 
Anyway, that's more than enough blathering on from me. Stay safe and well. Here's to a better future 🍺
May The Force - and the unaltered theatrical version of the Original Trilogy - Be With You. Always…
✊