The premise (from imdb)…
Nada, a down-on-his-luck construction worker, discovers a pair of special sunglasses. Wearing them, he is able to see the world as it really is: people being bombarded by media and government with messages like "Stay Asleep", "No Imagination", "Submit to Authority". Even scarier is that he is able to see that some usually normal-looking people are in fact aliens in charge of a massive campaign to keep humans subdued.
Love this film… a politically subversive blend of horror and sci-fi - taking aim at the rise of unchecked capitalism & consumerism of the 80's for much of 'The West', and the power of the mainstream media and advertisers to influence the masses. All done on a shoestring budget with the familiar style and wit of director John Carpenter.
Or just sit back and enjoy a quality, corny & funny 80's 'B' movie - with Rowdy Roddy Piper chewing up and through the scenery…
Don't forget your sunglasses - and gum too 😉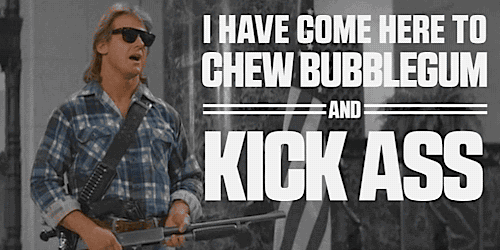 They Live! trailer - https://www.youtube.com/watch?v=iJC4R1uXDaE
Wikipedia page
IMDB page
John Carpenter twitter
The soundtrack, by John Carpenter & Alan Howarth, is also well worth a listen if you can find it:-
'They Live - Expanded Original Motion Picture Soundtrack 20th Anniversary Edition' - amazon link for info
'They Live! (1988) Retrospective / Review':-
https://www.youtube.com/watch?v=UK8MJVQVRo8 - a 26 minute video at the Oliver Harper youtube channel
"Why don't you knock it off with them negative waves? Why don't you dig how beautiful it is out here?"
"Why don't you say something righteous and hopeful for a change?" - Oddball, of The Awkward Squad