This is a thread for my personal fan-edits of episodes 1-6, my Star Wars saga.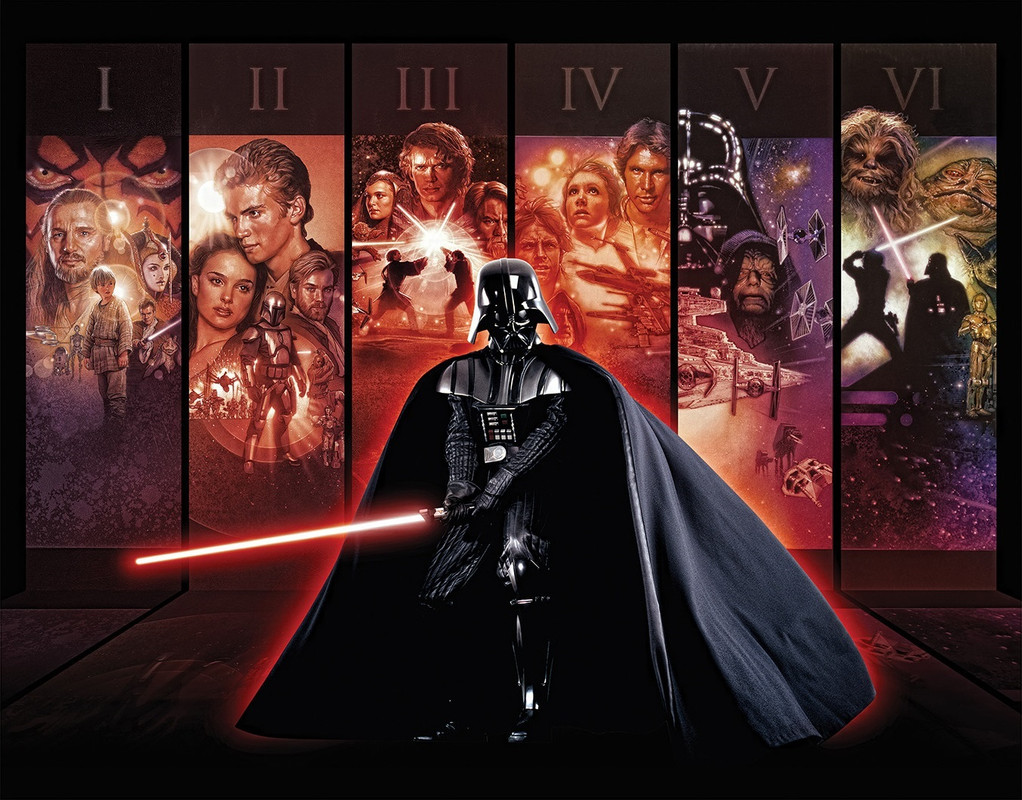 My edits are admittedly a combination of others ideas (mainly Hal9000, octoroxx, Gigawattboy, NFBisms, Adywan, IIFanEditore, and others) combined with my own, as sometimes I disagreed with some of their changes there are some things I added or deleted because of my own preferences.
Here is a Google doc with the list of all of changes I am planning on making. Suggestions are more then welcome.
https://docs.google.com/document/d/12-t92zTXPCqb389uPcuJ6Yq7J3BTijTd_JR96GN0U5Q/edit?usp=sharing
I apologize if I seem a little mean or hostile when defending my decision to use FXItInPost's Darth Vader vs. Obi-Wan fight for my ANH fan-edit, I just wanted to be blunt to prevent any argument.
Here are some synopsis of the major stuff I'm doing with each film. For the record I do love episodes 3-6 and think they are fantastic movies, and I actually do think 1 and 2 are ok, so don't take any of this as me hating on the films.
The Phantom Menace
Probably the most prominent change is that I've included an excellent fan-dub by YouTuber Gigawattboy which redoes Jar Jar's dialogue and basically reimagines the character as a rogue everyman with an Australian accent. I loved it. He also redubbed the rest of the Gungans, giving them less goofy voices and lines, and I also thought it worked perfectly.
Here is a link to a video he posted with a clip of his dub: https://www.youtube.com/watch?v=58yrGVFDHc8
I've also cut any cringe-inducing or confusing dialogue. Many trims, cuts, and rearrangements are inspired by Hal9000's edit, one big example being his rearranging of the final battle so Anakin intentionally goes into battle and saves Padme rather then "accidentally" joining a battle and his actions being redundant. Like Hal's edit I also re-added the deleted scene in which Qui-Gon destroys the probe droid.
I did actually keep midichlorians though. I honestly don't see what the big deal was and why so many people hate this. As Qui-Gon explains, midichlorians aren't the force itself, they're a vessel or bridge by which living things are able to be connected by the force, which is why having more midichlorians means you're stronger with the force. It doesn't ruin any of the force's mysticism, it just explains how they're able to measure a being's force potential and how living beings are connected to the force. So that's why they're kept. I really like the scene with Qui-Gon testing Anakin's blood, so it stays.
Attack of the Clones
My goal here was similar to many other fan-editors: remove any cringe dialogue and make the Anakin and Padme romance more believable. Once again many trims, cuts, and rearrangements were inspired by Hal9000's edit, and also octoroxx's. First, Padme doesn't first address him as a little boy. Now their introduction is more of a shared awkward moment, but Anakin proves his maturity later during the majorly trimmed packing scene. Then the deleted scenes with her and her family and the one in her bedroom are readded. This way Anakin actually gets to know Padme as a person and meets her family; they share personal stories and the fact that she lets Anakin in her bedroom is really telling of how comfortable she is with him. She even kind of flirts with him a little. So instead of Padme being uncomfortable she's open with him. Like in Hal's edit, the first kiss is placed after the dinner scene, regraded to look like its evening, and from this point on they're officially an item. I've also included Hal's version of the droid factory sequence, removed the "I killed them all" scene, rearranged R2 receiving Obi-Wan's message, and more.
I had to cut all of Jar Jar's dialogue as the guy who did the dub for TPM hasn't done one for this film and I can't have Jar Jar just have a completely different voice. Hopefully a AOTC dub for him is done eventually so I can update my edit.
There are some scenes that I didn't find offensive that those who inspired me did, like Jango giving Zam the worms (I was originally going to cut this but then there wasn't any other way in the film itself that the audience would know the worms are poisonous), the Yoda and the Younglings scene (this scene proves that Yoda trained Obi-Wan at one point, making the one line of dialogue in ESB make sense, and I find the scene itself to actually be kinda sweet and warming), and Yoda and Dooku's duel, and others, so they are kept.
I'm not deleting Yoda having a lightsaber or dueling. Both his duel with Dooku here and his duel with Sidious in ROTS are kept. A lot of the reason they're deleted in other fan-edits is because in the OT Yoda is a pacifist, but I view that as him having had character growth between the prequels and OT. He learned "Wars not make one great" from the Clone Wars. I mean, how else would he have learned that, he wasn't alive during the last war that was waged before the Clone Wars. Besides, I feel AOTC is anti-climactic without the Yoda saber duel. I like Yoda dueling, so it stays.
Revenge of the Sith (in-progress, should be out in the coming weeks)
This edit is a lot more similar to the original film then the previous two as I love the original movie a lot, it's much better then it's predecessors, but I have made some minor changes. I've incorporated some of NFBisms' ideas for added/changed dialogue in the first half, all of which with the goal of making Anakin more mature and his friendship with Obi-Wan stronger, reinserting deleted scenes ("Plot to Destroy the Jedi", Rebel alliance subplot, and Yoda arriving on Dagobah), Anakin killing the younglings is replaced with the deleted scene of him killing Shaak-Ti, "From my point of view the Jedi are evil!" is gone (conversation ends with "I have failed you Anakin… I have failed you"), and Vader's "NOOOOOO!" will be replaced with the Russian dub so it sounds like a anguished scream rather then a no (taken from Hal's edit).
A New Hope (in-progress)
I'd like to use the HD version of Adywan's edit once he's done with it as the base, but until then I may just release an edit of the Blu-Ray first.
First, I'm going to have the ending scene of Rogue One be the opening. The Darth Vader hallway scene is perfect visual exposition for who his character is now since we left him at the end of ROTS. It establishes Vader as a badass, powerful Sith enforcer. After that it will cut to an added scene of Yoda communicating with Qui-Gon on Dagobah, and then the beginning of the original film. This connects it with the prequels and reminds us that these characters are still relevant. Other prominent edits include using the Imperial March for Vader and the Empire (music from ROTS will also be added during the meeting in which Vader force chokes someone), readding "Vader Widens the Search" in place of the Jabba scene, removing anything that implies Vader is Tarkin's lackey (rather they are just two high-ranking villains working together), making Alderaan's destruction much more dramatic, and adding a new scene between Vader and Sidious. And of course there are more typical edits like removing the Jabba scene, trimming the SE entrance to Mos Eisley, Han shooting first, fixing Luke's lightsaber jumpcuts, etc.
I'm also editing in FXitinPost's version of the Darth Vader vs. Obi-Wan duel, as it's infinitely better then the one in the film. Like, it's become one of my favorite duels in all of Star Wars.
Basically my goal here is to give this film some more gusto. It's a great film but it's also the most dated. More references to deeper Star Wars lore will be added, a few scenes will be added that show what this story has to do with the grand scheme of things, and certain scenes will be made to feel more powerful, impactful, and epic (the lightsaber duel and the destruction of Alderaan).
Empire Strikes Back (in-progress)
This edit is the least blown of them all. It uses Adywan's as a base, as he made so many stunning, brilliant edits that I honestly can't resist. The most prominent things I'll do are readd the special edition shots of the Wampa, removing Leia kissing Luke because incest, readd the new special edition dialogue between Vader and Sidious during the hologram conversation with each other, and add a new force vision like that of Anakin for Luke when he's meditating and see's his friends in danger. Some minor changes are also going to be made to stay consistent with the prequels: Obi-Wan referring to Yoda as "A Jedi Master who instructed me" instead of "THE Jedi Master…" (a Hal9000 edit I burrow), and cutting the "That boy is our last hope", "No, there is another" exchange.
Return of the Jedi (in-progress)
Once again, I'd like to use Adywan's revisited version of the film as the base, though I know it probably won't be out for a long time, so I'll make an edit of the Blu-Ray first. I'm using Hal9000's custom special edition as a base, and any SE things readded use the 2020 Blu-Ray.
In my edit, the new opening crawl states that after his defeat to Darth Vader in ESB, Luke returns to Dagobah to train with Yoda, and his allies have formulated a plan to free Han Solo from Jabba (including the droids). My idea is that the film will be edited to make it appear as if Luke had been training with Yoda in the time period between ESB and this film, which explains how Luke became a better, more powerful Jedi in-between. It also helps the plan to free Han Solo make more sense, as now the efforts by the others can be seen as them attempting to free Han without Luke during his absence on Dagobah. However, since their plan doesn't work, Luke has to go to Tatooine to save their asses. The scenes on Dagobah will be moved to the beginning and intercut with the Jabba's palace scenes.
Other edits include replacing Jedi Rocks with Lapti Nek, fixing Boba's laughably-missed shot, removing Vader's "NOOOO!" and having him say "Your mother once thought as you do" (rather then Obi-Wan), among other things. The reason why I'm doing that instead of editing ROTS to have Obi-Wan want to redeem Anakin is that Obi-Wan giving up on Anakin shows the flaws of Jedi indoctrination; their belief that once someone turned to the dark side, they cannot be redeemed and must be eliminated. It's consistent with Yoda's line in ESB "Once you start down the dark path, forever will it dominate your destiny", which, while wrong, is what Obi-Wan was taught to be true. Luke being the first one to believe his father could be redeemed shows how he is different from previous Jedi.
And finally I don't plan on doing the sequel trilogy.