"Out, damn'd spot! out I say!" -- Lady Macbeth
The recent release of The Complete Saga on Blu-ray comes with bonus discs that contain deleted scenes from all six of the movies. Since all of these deleted scenes are presented in high-definition 1080p video, it is possible to edit these scenes back into their respective movies. Unfortunately, most of the deleted footage was transferred from film directly to video without any post-production. Many scenes contain a tremendous amount of dust and scratches. So a simple edit would have less than desirable results.
If no one else has done so, I would like to initiate a project that is focused on cleaning up the deleted scene footage. Specifically, the deleted footage from the original trilogy. From there, others can edit the restored footage into their own fan edits. Other issues such as audio soundtracks would not be addressed. And fan editors could color-correct the footage in a manner that matches their respective endeavors.
The wisdom of doing such an edit is questionable in all cases. Nevertheless, many fans would enjoy adding some of these scenes to their own edits of a particular movie. For example, I believe there is absolutely no point in trying to clean-up and restore the landspeeder scene featuring Luke and C-3P0 in ANH. But it might be interesting to restore the ANH scenes featuring Luke and Biggs.
Some deleted scenes are pretty clean of dirt and devoid of scratches. Those would require very little work. But there are other worthy scenes that are in pretty bad shape. For example, the Treadwell scene that features Luke observing the space battle with macrobinoculars at the beginning of ANH.
Here is an example frame: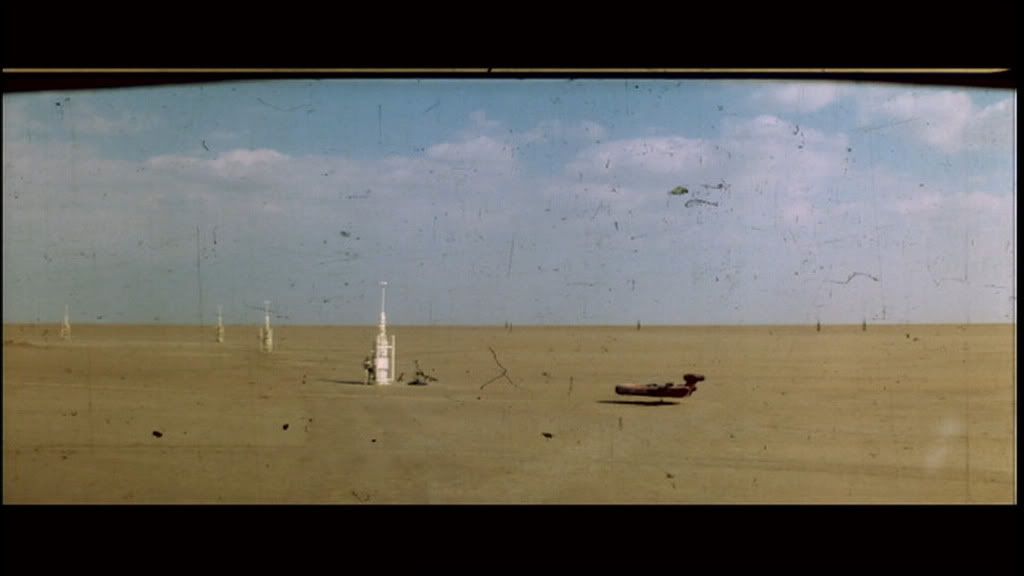 http://i1087.photobucket.com/albums/j466/ct1970/treadwell0001.jpg
As you can see, there is a considerable amount of dust and scratches. This particular frame is vertically misaligned with most of the other frames of this shot. And like all the other frames of this shot, there is a strange curved border at the top.
I've already begun work on cleaning up this particular shot. First, I brought about a half-dozen of the "cleanest" frames into Photoshop. Starting with one frame, I placed another one on a new layer. Then I carefully erased any specks of dirt or scratches. The holes created by the erasure revealed the frame on the layer beneath it. In some places, these holes only revealed the dust on the bottom layer frame. To address this, I then added a different frame on a new layer and did the same thing. After repeating this process six or so times, I did a little pixel-pushing to repair the borders. This was the result: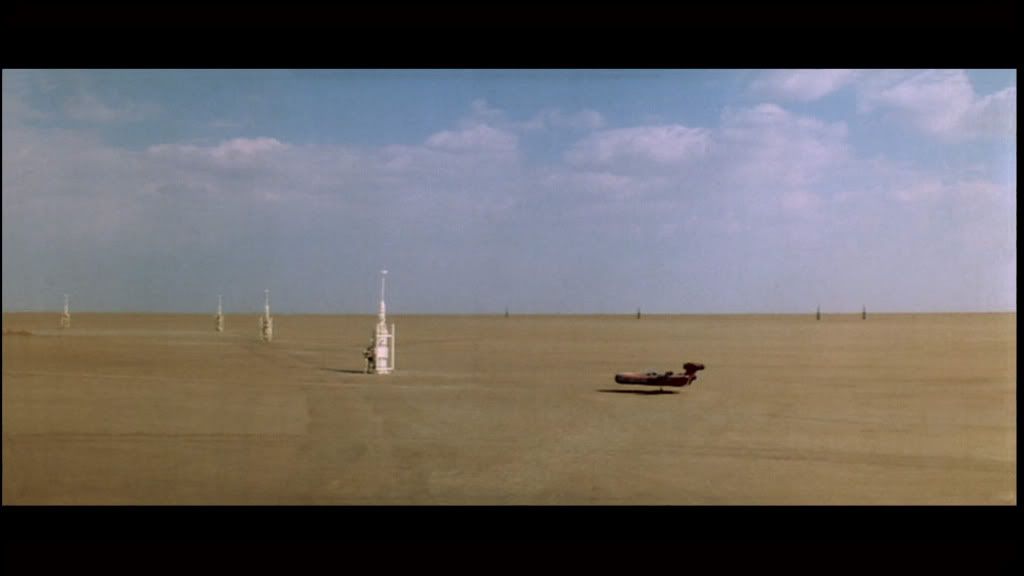 http://i1087.photobucket.com/albums/j466/ct1970/treadwellcleanup.jpg
I plan to use this "TreadwellCleanup" image as the basis of editing all the other frames of this shot. I loaded up the example frame (the first image in this post), put it on a layer above this Cleanup image (the second image), and erased away the dirt. This was how much I erased: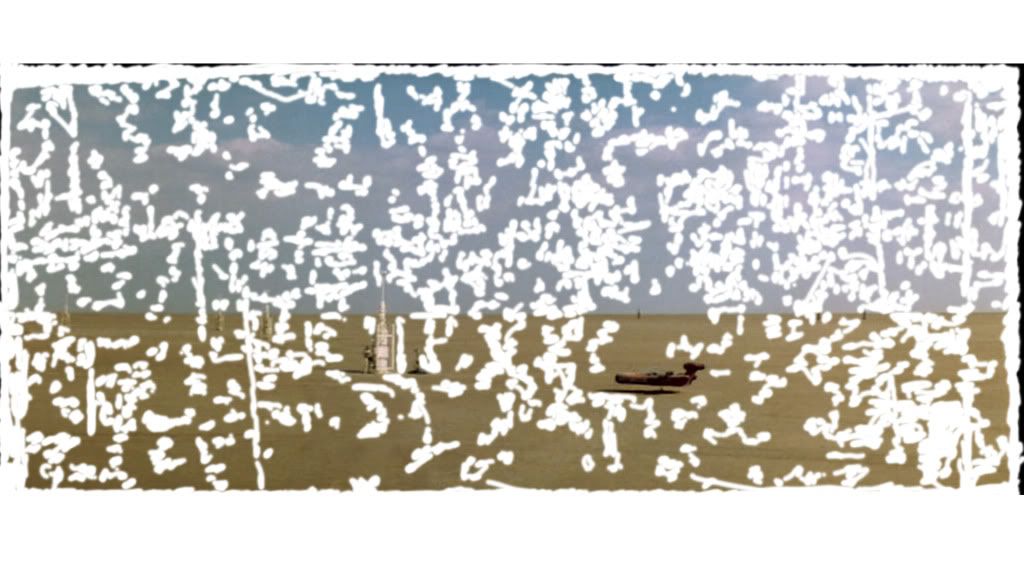 http://i1087.photobucket.com/albums/j466/ct1970/treadwell0001_e.jpg
But that's not the end of it. This frame, for example, is slightly discolored with a greenish tint. I color-corrected the top layer so that it matched the Cleanup image beneath. I had to do this twice in order to match the sky as well as the ground. This is the result: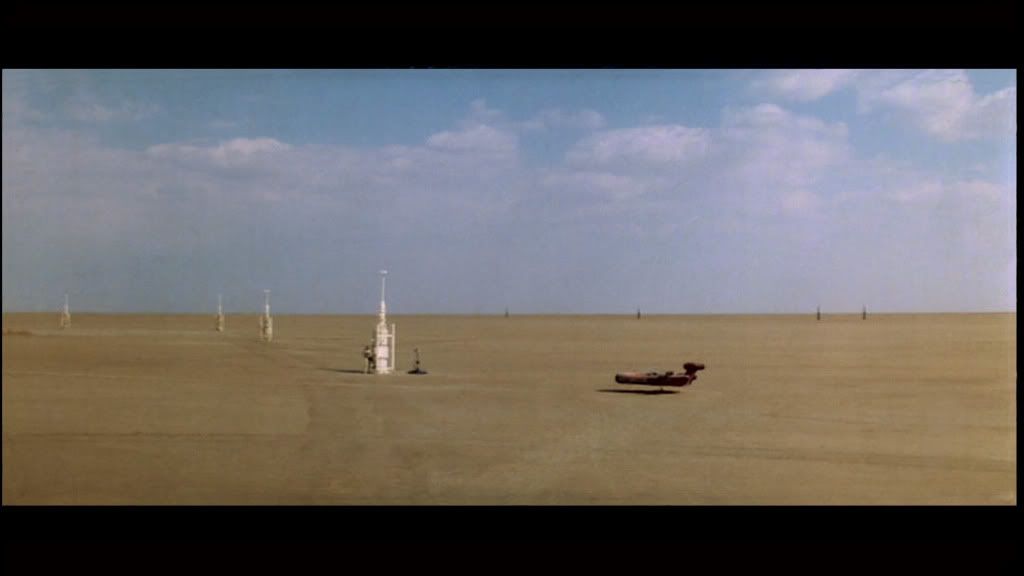 http://i1087.photobucket.com/albums/j466/ct1970/treadwell0001_f.jpg
Using the Cleanup image as a foundation, the clean-up of one frame took me 30 minutes.
THIRTY. MINUTES.
There are over a thousand frames in this entire scene. And the example I presented above was a frame from only one shot in this scene. There are 20 shots total in this scene. And each of those shots will present different problems that won't be solved in exactly the same way as I did for this shot.
I also have to admit that this process might not be the best process. But based on over a decade of experience with Photoshop, Premiere, and AfterEffects, I believe that this tedious method might be the most effective. Although I have experience with professional art software, film restoration is not my profession. It is possible that there is software or some sort of plugin out there that would greatly accelerate the process. But I doubt that it could replace the effectiveness of working each frame by hand.
Before I start asking people to help, I need to test this method. Once I have 24 frames completed, I'll load it up into Premiere and see what it looks like. It might look horrible. Or it might look great. I don't know yet.
The most important thing at this point is that I would like to attract the attention of others who might like to help. And I would like to attract the attention of others who may have already started restoration work on these scenes.
Another caveat: I'm planning to go on a two-week vacation shortly. So I won't be able to continue my experiment until I return. However, I will have access to the internet so I'll be able to discuss ideas in this thread.