Author

Time

Post link
Because I couldn't find an equivalent on the first few pages, or an easy way to search the forums.
I'll start:
As I've noted in the past, while writing the original Star Wars film in 1975, George Lucas considered having Princess Leia's torture at Imperial hands be considerably more graphic.
Among other injuries, Leia's back would likely have borne half-healed whip marks from a flogging (as in Lawrence of Arabia), and one of her eyes would be swollen shut, like Clint Eastwood in Sergio Leone's A Fistful of Dollars.
Darth Vader's thugs would even have installed a cyborg dataport on her head, in order to access Leia's memories, leaving one side of her head half-shaved afterward. Anyone who's seen THX-1138 might find this imagery familiar.
The end result, as seen in the Ralph McQuarrie storyboards below, was that once Luke rescued Leia, he'd be running around the Death Star corridors alongside a bare-breasted, blaster-wielding princess with a punk hairstyle and a very pissed-off mood.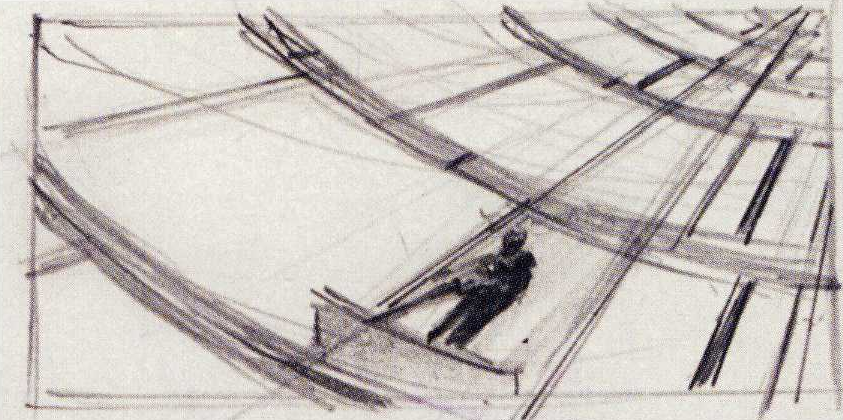 Eugène Delacroix would be proud. (And yes, this is why John Mollo notes that a "Tarzan-like" costume was considered for Leia in the (SW Costumes* book.)
Oddly enough, on the last season of History Channel's Vikings, the character of Thorunn the shieldmaiden received injuries in battle which are a pretty good approximation of what George Lucas wanted for Leia's facial wounds:
They even worked in the half-shaven hairstyle.
(This is even more remarkable when you consider that, judging by McQuarrie's 1975 concept sketches, Lucas evidently wanted Leia to be a Wagnerian-type blonde who shared Luke's hair color.)
"That Darth Vader, man. Sure does love eating Jedi."