Nice breakdown RogueLeader, I mostly share your sentiments. I read through the entire "OT Radical Redux" thread a couple years ago and came across some excellent images from user 4throck, who hasn't logged in recently unfortunately. Here were two that really stuck out to me: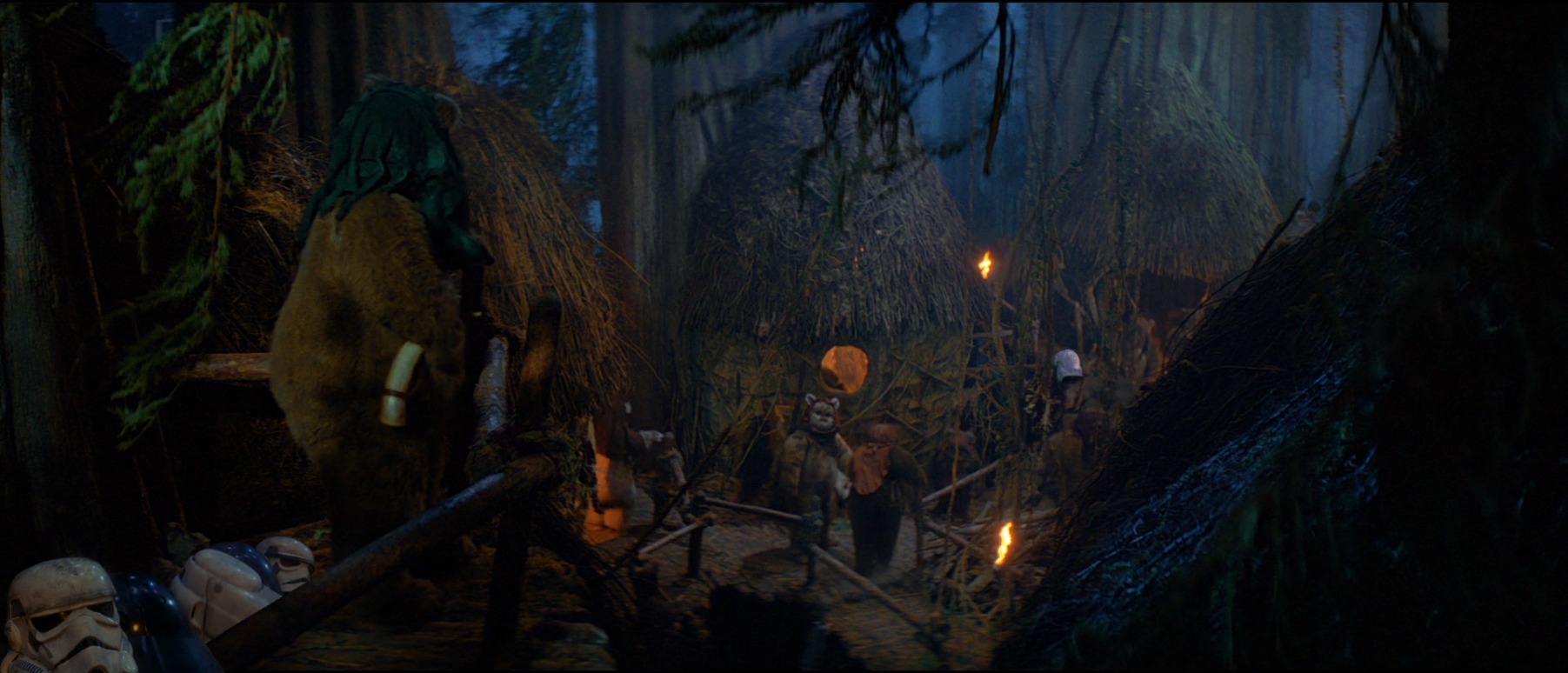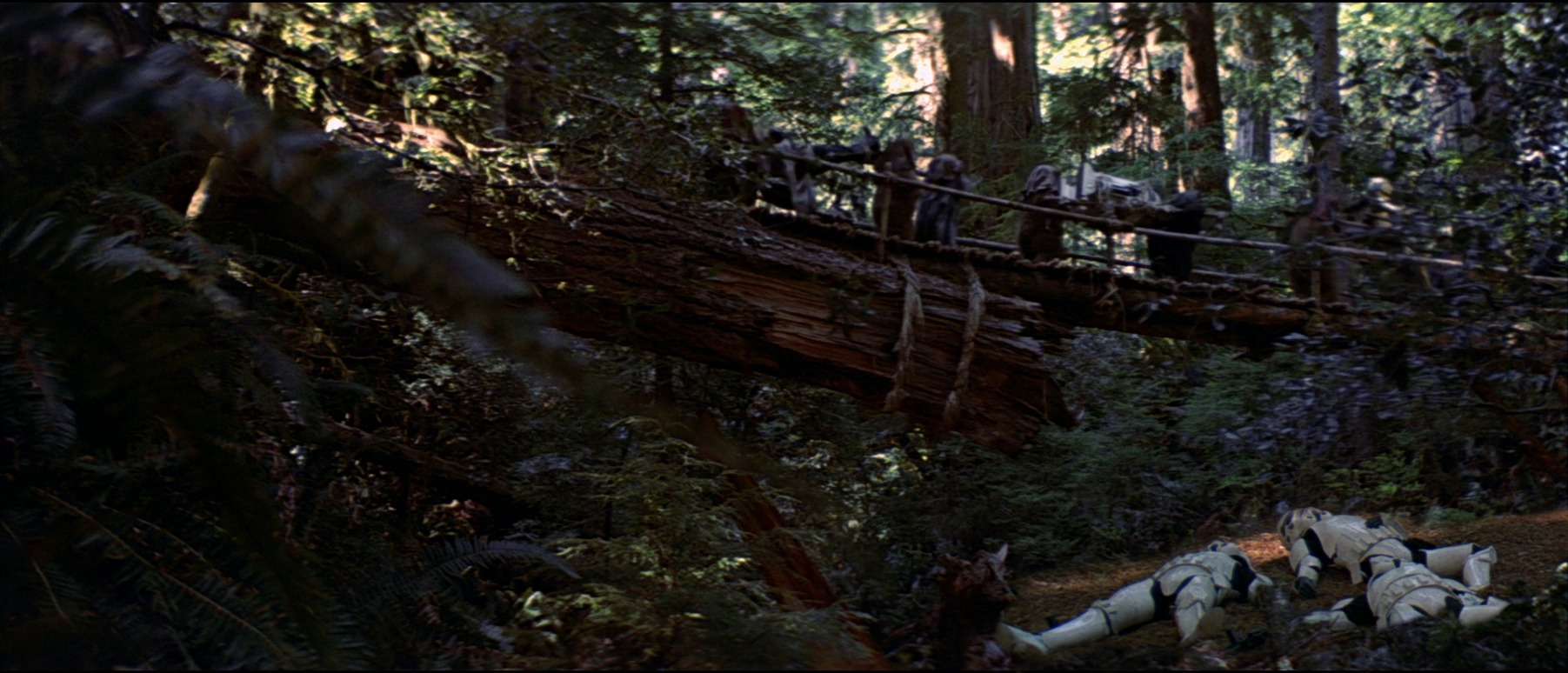 Both can be found here. They'd really compliment the Ewok characterization you're talking about, and it'd still be effective even if that's all we add.
RE: Utilizing footage from the Ewok movies - I think if you don't over do-it, it could definitely work. I'm not as familiar with them but I could rewatch it at some point and take notes as for shots and timestamps on the current version on D+ and see how we go about it.
---
As for my "main wishlist" for this ROTJ month I'd say these are the two most important things, both related to the Endor section:
Try to bring to life stuff akin to the 4throck images above, which would subtly improve the whole Ewok business a ton, making them seem more vicious and even the Empire more overconfident and greedy in the process, because it now means they completely dismiss the Ewoks as any sort of threat.
A new Force Ghost. While it obviously cannot be the 2004 version, Shaw's isn't much better. After the "I am your father" twist, which puts Vader as still a regular human at least 9 months before Luke is born, it means he's in his 50s, guessing Anakin was in his 30s when Luke was born, PT notwithstanding. Shaw doesn't look the part at all - in fact, he looks older than Guinness! So I would love a new ghost, an aged-up Hayden, but unfortunately I don't know how that could come to be.
---
Now, there's other things I'd love to see come to life, mostly visual changes to try and make Jedi look more appealing. The disconnected first act and the lesser Han and Leia characterizations are just too hard to fix IMO and while I love that we're focusing on those - and almost cracking the code! - I think some of those are just out of the realm of regular fan editing abilities. So tackling another shortcoming of ROTJ is something I think could be good: pretty much everything visually. Both in its visual style and design but also the cinematography. Flat lighting, boring colors…
I ended up coming across some proofs of concept made by former user Angel a long time ago, seemingly meant for Ady's ROTJ:R when that came around, and some stuff was really interesting. This one was probably my favorite, and it even fits in with ROTJ's visual style (disregard the color grade):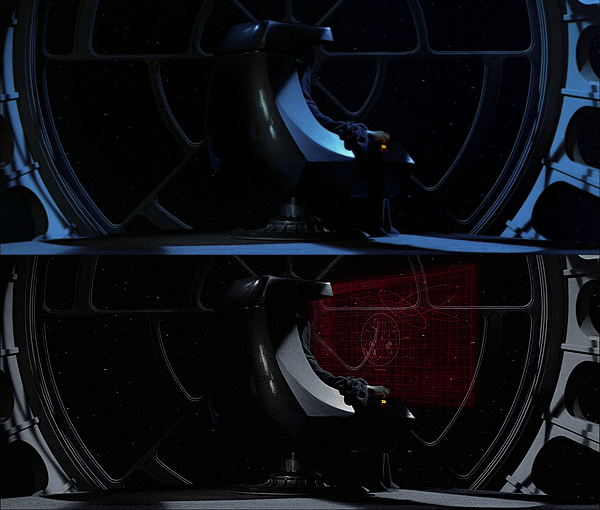 Another thing we could try to do is a new opening shot. ROTJ's is just so painfully boring, as is most of the movie visually, unfortunately. Maybe open with the Super Star Destroyer? Don't know…
Would it be possible to get new angles of the DSII that isn't just that flat one from the front?
And one of my favorite ideas, a couple proofs of concept from doubleofive's "OT.com's ROTJ Wishlist":
Both from Bingowings. The new tribal-looking things around Endor breathe some life into the forest moon, and thankfully make it seem less like California.
That's it I think! Lots of potential, but just throwing out ideas like this might not be the most helpful. Both my computer and FX skills are very limited but I'll try to see what I can do. As for the color grade, TN1 managed to scan a 1997 ROTJ print recently and the colors there are certainly my favorite for this film, and it looks the best its ever looked. Environments pop and you finally feel like Endor and Tatooine are moody, even if not a lot.
Hope this contributes with something! Cheers guys!