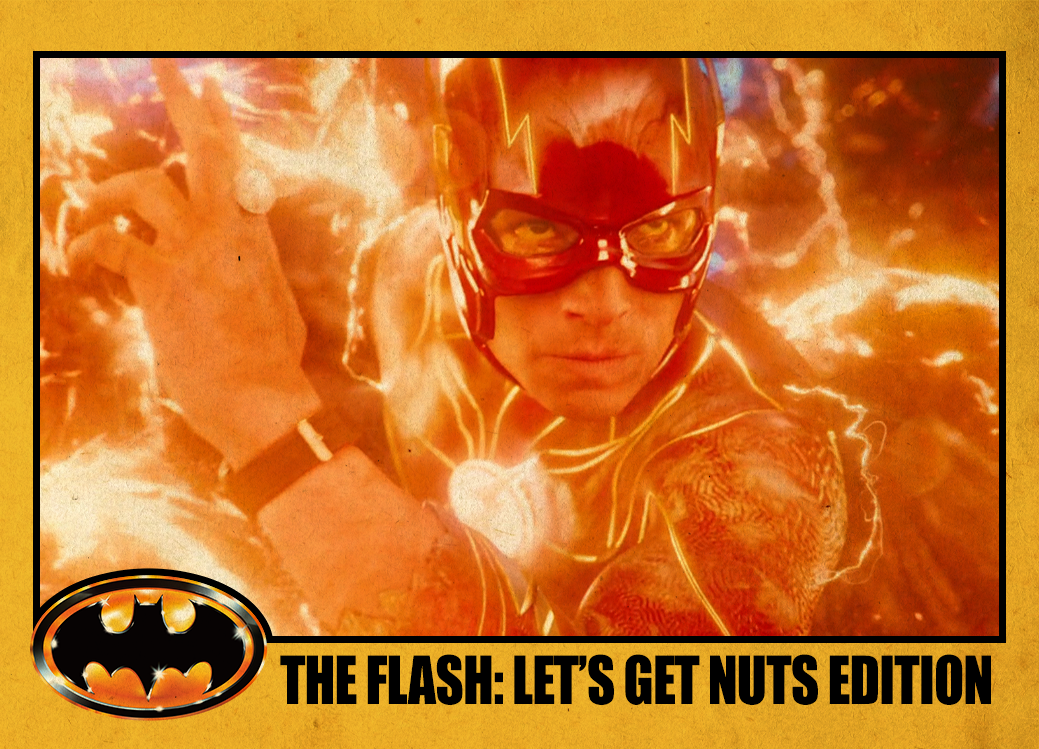 Hello everyone! I am excited to share my fanedit, the LET'S GET NUTS EDITION of The Flash. The main objective of this edit was to significantly reduce the sillier comedic moments that didn't quite hit the mark. As a result, it presents Barry as a more mature, competent, and heroic figure. Additionally, I aimed to trim the runtime, getting us to Wayne Manor earlier in the film, while also allowing the action sequences to be fully enjoyed without cutaways to juvenile humor. I hope this can become the version you choose to re-watch if you, like myself, felt the initial tone given to Barry's character didn't fully resonate.
It was essential to me that the transitions between audio and visual edits were seamlessly integrated, so the viewer wouldn't notice changes. I was pleasantly surprised by the difference these edits made in the final product. In my opinion, this fanedit enhances the excitement of the action scenes, elevates Ezra's performance, and transforms the movie into a easy and enjoyable watch. It made me appreciate the cast and filmmakers even more while discovering a different, more fitting tone that lies beneath the original theatrical release.
What changed?
-Theatrical Release Runtime: 2:24:04 | LET'S GET NUTS Fanedit Runtime: 1:41:11
-Countless sillier comedic moments from Young & Old Barry have been removed like "I have to take a shit", "Dipset before the block is hot", "are we always this sweepy?" "you know where it hurts…my dick" & of course the classic "everybody poops". The aim was to make Barry more mature.
-Trimmed down the opening scene of Barry in the coffee shop and re-ordered a few shots.
-Cut the false start to the title intro. There were serious issues Barry needed to attend to, which to me impacted the humor's resonance.
-Removed babies falling from building/microwave scene. This wasn't the best look after everything that happened with Ezra and the dark humour didn't work for me.
-Cut Lasso of Truth & Barry proclaiming he hasn't had sex…
-Removed Barry arriving at work late and being reprimanded. I felt this made him look incompetent at his job that was important to him.
-Heavily trimmed down the two Barry's meeting for the first time. Taking away as many childish Barry lines as possible.
-Trimmed down lab break in scene and cut Barry's tooth flying out when hit by lightning.
-Removed Young Barry using his powers in the streets, causing chaos and being publicly naked. Everything was already established in the apartment, I don't feel they needed to go through all of that. I was very happy with how this worked and transitioned into the next scene.
-Removed shots of Barry shoveling food into his mouth. If you have a sensitivity to chewing sounds like me you will appreciate this.
-Opted to cut the Young Barry's roommates scene to maintain focus on the urgency of stopping Zod and to present Young Barry's character in a more favorable light.
-Added AI voice cloned lines of Barry while in cab going to Wayne Manor. This was a fun experiment.
-Trimmed down Bruce Wayne explaining time travel. This seemed out of character for Batman 89' to know so much about time travel.
-Cut Young Barry racing around Batcave & finding Joker's fake teeth.
-Decided to remove the two Barry's argument in the Batcave to keep the focus on the more crucial conflict with Zod and make them both appear more mature.
-Cut Barry screaming "This rips dick!" before ejecting from the Batwing.
-Removed Barry throwing up during Batman's action sequence in Russia to allow the viewer to further enjoy the great action scene that it actually was.
-"Come on Barbie, lets go party" line has been removed. I didn't think this line made sense for either version of Barry.
-Added explosion sound effects to Batman's Batwing sacrifice to make it sound like he accomplished a bit more damage.
-Opted to remove the multiverses colliding cameos to maintain a more cohesive narrative. Initially, the Batman '66 and George Reeves Superman cameos were taken out as they felt out of place, while still keeping Christopher Reeves & Nic Cage's Superman. After reviewing an earlier cut of this fanedit, it became evident that this leaner version was more focused and impactful, as diverting away to unrelated characters had a potential to distract from the main storyline rather than enhancing it. So the decision was made to cut all colliding world cameos for a smoother viewing experience.
-Added the Batman & Robin theme underneath the George Clooney appearance to make him feel more like Batman and less like…George Clooney doing a cameo.
-Final shot of the film cuts before Barry's tooth falls out. The humour of Clooney's appearance had already been conveyed, the CGI tooth falling out wasn't necessary in my opinion.
-Post Credits Aquaman scene has been removed.
-Credits song changed to "Funny How Time Slips Away" By Billy Walker
Please if you have any comments I'd love to hear them. I'd be interested in creating a V2 if the community spots anything to work on.
Let me know if interested! Thank you 🦇
File Details
Length … 1 hr 41 mins
Codecs … H264
Container … MP4
Resolution … 1080p & 720p
Post-credits scene … No
FANEDIT CLIPS
https://www.youtube.com/channel/UCh04-HyJTgc5iTRJWohN92w
MORE INFO
https://www.reddit.com/r/fanedits/comments/15ejzez/the_flash_lets_get_nuts_edition_leaner_more/