Author

Time

Post link
A fanedit to drastically (as much as possible) change the movie we saw in the theater for the better.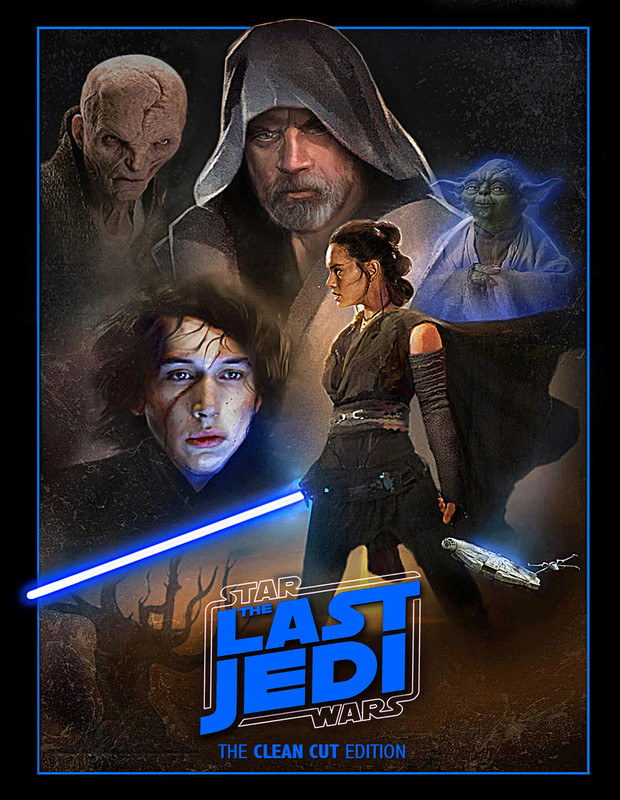 THIS EDIT IS COMPLETE and AVAILABLE.
GOAL: To reboot and repackage The Last Jedi with existing footage and new VFX to change the way we see the entire presentation in order to make it feel as much like a focused classic Star Wars movie as possible. It's a very simple Star Wars story - it follows Luke, Rey and Kylo, while the rebels run from the First Order. This version is the ONLY way I watch this movie, and I quite enjoy it like this actually.
Here is a little trailer I made for the edit:
https://vimeo.com/325893403
https://www.youtube.com/watch?v=R2Yb3jxs4nI
I've edited The Last Jedi down to the basics and void of all cringe. The goal was to shave it down to the basics and make it more "Luke" focused and play out more like an OT style story. I really wanted to change the way we see this movie as drastically as possible while still maintaining continuity (with the exception of Rey's new first encounter with Luke). I also really disliked the "red everything" marketing campaign, so this new movie poster is meant to change the overall tone.
Lots of changes and tolerable runtime! 😃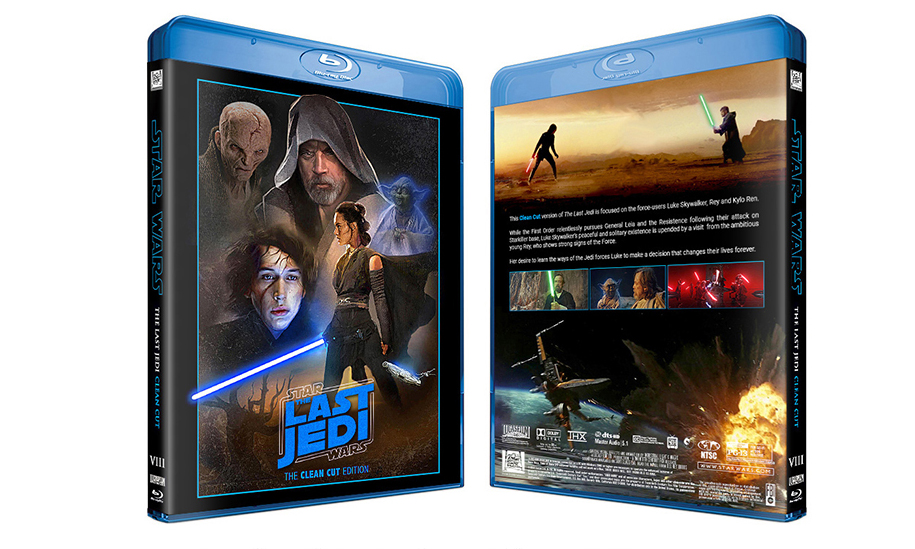 Change list:
Cut Rebel girl's "oh no" in opening scene
Cut Poe 'prank call' with Hux at the beginning
Cut Snoke slamming and dragging Hux
Trimmed ridiculous exaggerated amount of time it takes rebel bomber girl to catch the detonator
Cut Finn/Rose side arc altogether
Added Finn and Poe deleted scene
Finn asks where Rey is and then we cut to the ending scene for TFA of Rey in hyperspace in the falcon and then her arrival on Ach-too - she then climbs the steps to the huts and knocks on the door of Luke's hut after he slams the door. (this edit works perfectly with versions of TFA that cut out the ending Luke scene.(in this edit, Luke was never in his Jedi robes peering out over the sea - nor did Rey ever hand him the saber)
Chewy breaks in the door and Luke's "how did you find me?" works perfectly here
Made Luke's "Wait. Where's Han?"line more dramatic with cut to Kylo smashing helmet and cut back to Rey telling Luke about Kylo Ren
Cut Poe/Holdo "fuel" arc
Inserted Ryan Glossemeyer's "Luke saves Leia" scene. I think this was really well done and a powerful scene. Great way to give us more Luke and highlight the fact that he only uses the Force to save people at this point in his life. Luke saves Leia when she's blasted into space… she comes back to the ship (with Luke's help) and drops her homing beacon when placed on the strectcher - then cut to Rey's homing beacon and Rey sleeping… works particularly well.
https://vimeo.com/265892212
Cut DJ and Phasma side stories completely - these characters aren't in this version of the movie
Added "Luke mourning Han" deleted scene
Cut Snoke's "tied on a string indeed" line… since the choke slam is no longer in this edit
Added Holdo's introduction speech but cut tension with Poe - this scene also adds a nice exposition about leia recovering from her space-walk
Cut Ach-Too caretakers altogether
Altered Luke and Rey's dialogue inside the Force tree - no more awkward 'no one is from nowhere" exchange
Cut Luke/Rey joke bout "reaching out" and slapping on the hand
Added Luke's 3rd lesson - Caretakes Village scene - this scene works great to fill is a few blanks for the viewers - mainly the inclusion of Luke's 3rd lesson, but also adds tension between Rey and Luke right before she storms off and received Kylo's "force skype" telling her his version of the story… and she kind of believes him because she's already annoyed with Luke
Cut Holdo/Leia awkward "may the force be with you" and just let Holdo say it.
Cut Snoke's "Tied on a string indeed" comment with Hux (since there is no reference to it prior to this scene)
Cut Rey force-grabbing Kylo's saber in the Snoke confrontation, only to have it taken away from her a second later.
BIG CHANGE. Snoke's guards now have lightsabers (courtesy of Immersion VFX)
Some may not like this change but I have my reasons and i'll explain. Every Star Wars movie has a lightsaber duel… except The Last Jedi (and obviously Luke vs. Kylo doesn't count). In an effort to make this edit even MORE Star Wars-ish. The duel with the guards is now all all-out lightsaber duel and it's pretty awesome. I actually like the idea that Snoke would have his guards armed with lightsabers, being that the Jedi and Sith are a thing of the past at this point in the timeline, yet Snoke is still like a Sith fanboy. OR they could be some of Luke's former students. PLUS, Hell, Finn even fought with a lightsaber in TFA so it's already been established you don't HAVE to be a Jedi or Sith anymore to wield a lightsaber. Preview it here: https://www.youtube.com/watch?v=Jkr9iGBdyQo&t=1s (in collaboration with Immersion VFX)
Cut Snoke laying on the floor
Cut Kylo's "Do you want to know the truth about your parents?" lines (i didn't like the original dialogue at all)
Cut Finn trying to crash into the battering ram and Rose saving him
Cut Finn's "they hate that ship" in the Crait battle
Zoom/scale the explosion to crop Rose and Finn out when the battering ram blasts the giant door open
BIG CHANGE: Luke uses his ROTJ hilt and GREEN lightsaber in duel eith kylo. (courtesy of Immersion VFX)
Removed broom boy and slave children ending
Removed Finn/Rose at the end
Removed Poe/Rey meeting
Luke doesn't fade away - he is last seen on his "meditation rock" looking at the sunset and then we see the island from a distance and the sun goes down behind it (interpret it as you wish) - I'm 100% sure episode 9 will include some exposition saying "Luke has died" or something to that effect, so we really don't have to SEE it happen in order maintain saga continuity with where EP9 starts off.
Altered Rey's conversation with Leia to omit "Luke is gone"
New iris transition to end movie with falcon scene
-Added credits for myself and vfx artist
Runtime: 1hr 35min
Links available. PM me.
---
Mod Edit: It has come to the moderators attention that ForceGhostRecon was a previously banned member on this site - to which FGR has himself admitted.