Author

Time

Post link
1st POST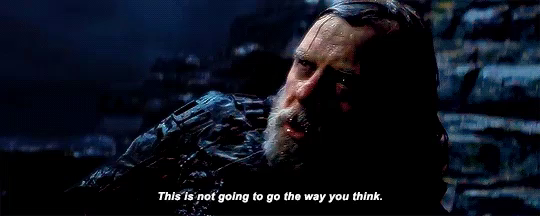 Welcome fellow STAR WARS fans!
There was a time when things were much simpler concerning the 'saga'.
But over the years, the additional instalments conflicted me…and despite plenty of impressive visuals and soundtrack goodness throughout the ORIGINAL TRILOGY's various PREQUELS and SEQUELS, I ended up wanting to 'unlearn what I had learned', where some of their content was concerned…
However, I wondered if it was possible to undo some of the footage and dialogue more to my own liking…so I checked back-and-forth…and after much scrutinising (and agonising too!), I found that MUCH LESS worked MUCH MORE for me in certain areas…
…so with THE RISE OF SKYWALKER about to conclude the current trilogy at the end of the year…I thought it might be fun to show what I'd change, and describe the moments I'd prefer to TWEAK, REARRANGE, OR COMPLETELY DISCARD for my own ideal 'saga' re-watch someday…
Just to clarify, I'm not currently editing any of these movies, and this is purely a visual description of how I'd LIKE to alter them for myself someday, if I ever find the time.
And while there's sure to be things you don't agree with along the way, perhaps some of you will find something of interest here and there.
Every now and then over the coming weeks and months, I'll describe my proposals for various scenes from across the 'saga' in separate, numbered posts, and will update this initial post with the ones I've covered, for easy reference for myself.
All thoughts are welcome of course, but for the sake of everyone's scrolling sanity…please don't 'quote' the WHOLE of these lengthy posts if you wish to comment on anything, as just posting your thoughts will suffice, without us all having to see every single screenshot again, thanks. 😃
NEXT UP, I'll describe my THREE (!) favourite 'viewing orders' which begin and end in the same way, no-matter-what…
---
UPDATE: DESCRIPTIONS COVERED SO FAR -
My THREE favourite 'viewing orders' of the Star Wars 'saga' - 2nd POST on page 1
My proposed NEW OPENING for THE PHANTOM MENACE - 3rd POST on page 1
My proposed NEW ENDING for REVENGE OF THE SITH - 4th POST on page 1
My alternative NEW ENDING for REVENGE OF THE SITH, which I originally had in mind - 5th POST on page 1
My proposed NEW OPENING for ROGUE ONE - 6th POST on page 1
My proposed RESTRUCTURE of Luke's character for THE FORCE AWAKENS and during THE LAST JEDI…as well as my proposed NEW ENDINGS for both movies - 7th POST on page 1