In early versions of Star Wars, just after the Tantive IV got rocked by the approaching Star Destroyer, as 3po and R2 make their way down the corridor in back-to-back frames there are two large orange items. (Example pics from the 16mm Puggo Grande)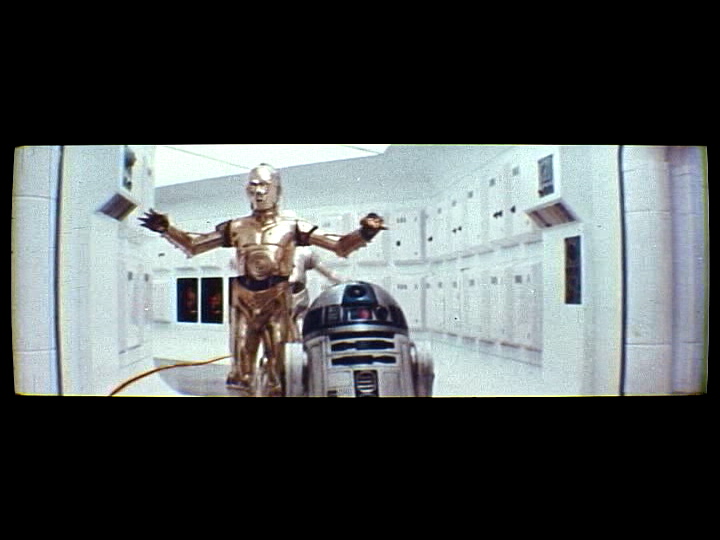 These two Orange Items are not the only ones which exist thru out the film. But they have become the symbolic identifiers of this phenomenon. As home preservations become of better quality additional ones may be found. For example in this sequence there was a third item which was not apparent in official VHS versions but can be seen in the 16mm versions. A fourth possible candidate was found in a 35mm print. Here is a guide to the Orange Items from these consecutive Tantive sequence of frames: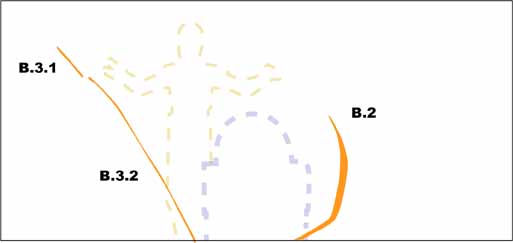 msycamore provided other locations where Orange Items appear in this post:
http://originaltrilogy.com/forum/topic.cfm/Star-Wars-Tantives-Orange-Errors-Thread/post/565509/#TopicPost565509
Whether they are rips or burns is undecided. They have been patched, over the years, only to reappears a few years later. But once the Special Editions arrived they ceased to exist.
This thread is for discussing these orange items and how their appearance lets us know about the origin of the home video version in question. ...and hopefully something else otherwise this could be a short thread!
Pics Comparison Page: (HTML5 Browsers)
http://fd.noneinc.com/Glitch/starwars-tantiveorangeerrors/starwars-tantiveorangeerrors.html
This page has screen caps from various version where the orange items appear outright, but also version where it's unsure if they've been 'fixed' or if it's a different source. Also has some of the Special Edition versions where this shot has been reframed. (please let me know of other versions to add to the list, if you've got pics that's great, if you don't let me know anyway)
A possible explanation of how they came into being is from the 'Sounds of Star Wars' book:
"At one point while Burtt was working in the basement of Park Way, he was handed the color work print. At that time, Lucasfilm had only one work print of Star Wars, so the utmost care was used when handling it. "I thought, 'This is really valuable; my future's at stake here," says Burtt. "So I threaded the work print up on my Movieola very carefully. I checked all the rollers and sprockets to make sure it was okay. Then I pressed Go - and ripped the films to shreads! Oh, boy. So I spliced it back together and tried to pretend it didn't happen. But all the screenings from then on always had this jumpy spot right when the stormtroopers come bursting through the door of the Blockade Runner."
Here are some previous threads which discussed the Orange Items: