Author

Time

Post link
I'm just three chapters into it so far. I don't want to give anything away because there are definitely spoilable areas. The entire program is 6-1/2 hours, so there are a lot of scenes that are expanded, as well as parts that were not in the movie at all.

I will say, however, that I'm really enjoying it. It's much more than I expected. The sound effects, music, etc. The reading is terrific. They really put a lot into it and several scenes were very emotional. Only Mark Hamill and Anthony Daniels reprise their roles, but so far I'm not having any problems with getting used to the new voices. After a few minutes of each, I'm settled in and they become the character. That surprised me.

It

is

safe to mention one part on this board though. We've all seen the deleted scenes with Luke and Treadwell out in the desert looking up at the opening battle( that ultimately gets him involved in the story), then going back to Tosche to tell Fixer and Camie and urging them to go outside, seeing how he's an outsider in the group, seeing him meet up with Biggs again, etc. That scene was nearly an entire chapter and it's done very well. It was nice to hear it really fleshed out.

I'm listening to an hour each day. Each chapter is 30 minutes, which happens to be my work commute almost exactly, so it's a chapter in the morning and a chapter in the evening. It will take me until sometime next week to hear them all. I'll give a full review afterwards.

Anyway, great stuff so far. I'm out of here, fellas. Chapter four starts in a few minutes.

***********************************



*update*

- April 27th. No spoilers.

Thanks to some heavy traffic and one day of bad storms, I finished the last episode on the drive home today.

It is really incredible. I can't tell you guys how much I enjoyed it. I really looked forward to the commute everyday and had a hard time not listening to it all the way through after about the third or fourth episode. I normally ride a motorcycle to work but after 14 hours on the road coming back from vacation only a day before, I was just too fatigued to suit up and ride, so I decided to drive. I took the radio drama with me for the commute. I liked it so much, that I drove every day this week. I could hardly wait for the next episode every morning. I had the thing playing before I was out of the driveway every day.

The entire production is first rate – sound effects, music, acting – everything. I'm shocked at how deep it feels - how thorough. There's so much more when there isn't a two-hour time constraint. I really enjoyed the added chapters. Some of it is taken almost verbatim from the early film scripts.

I thought everyone did an outstanding job with their characters. They really get a chance to get deep into them. It goes without saying that Mark Hamill makes the whole drama, but the rest of the cast did great work as well. Ann Sachs is awesome as Leia. She brings a lot to the roll. Very emotional in spots. Perry King was a great Han. Less likeable than in the film because you get a chance to see just how smug, self-centered, and untrustworthy he really is. He's just not a likeable guy. Brock Peters was fantastic as Vader – again, more depth to the character. Everyone else was great also.

This thing is up there with the film in my world. I enjoyed it

that

much. It's a giant adventure and I felt like I was going on it for the first time. It felt far away - the universe felt endless again.

C3PX, I can't thank you enough for bringing the thing to my attention. My Star Wars universe grew substantially this past week. I also have the published script now. I'll start reading it soon.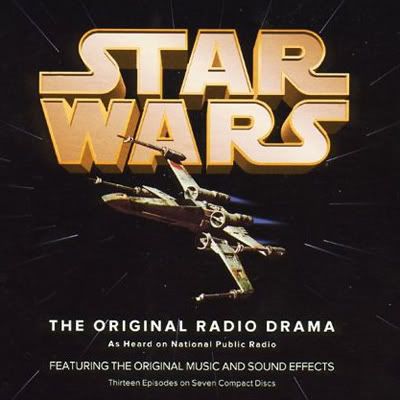 originaltrilogy.com Moderator
So shines a good deed in a weary world.