The Clone Wars is some of my favorite Star Wars, and the four part Siege of Mandalore/Order 66 finale was absolutely amazing. When watching it I thought it would work really well with RotS(as have many people), but I didn't want to just use the theatrical or even extended version of the film…
Presenting:
Star Wars: Revenge of the Sith: Refocused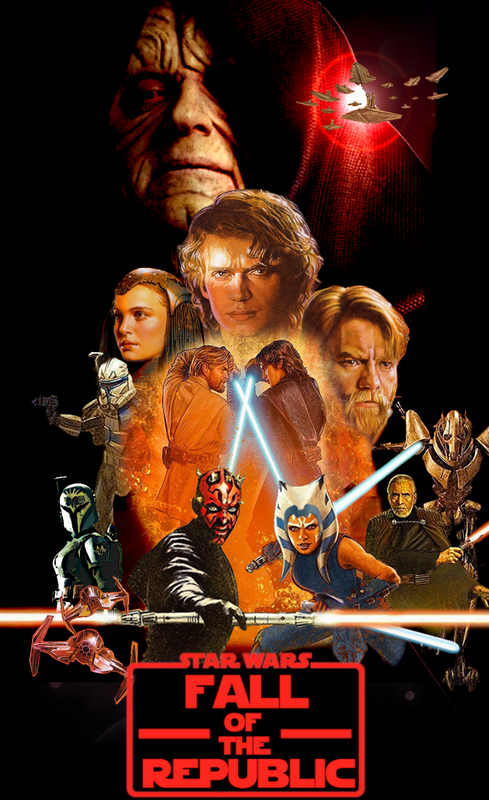 (Original poster by reddit user thementelgen, who gave me permission to use and modify their art.)
This is my first edit to be publicly released, and I'm pretty pleased with what I put together for V2, but am excited to be working on a v3.
RotS: Refocused is a new version of my Fall of the Republic edit. This is based on NFBism's New Canon Cut of Revenge of the Sith and The Siege of Mandalore four part finale of The Clone Wars.
The purpose of the NCC edit is to make RotS fit tonally with the depiction of Anakin/Obi-wan/Padme in The Clone Wars, and does an incredible job. For v3 of my edit I have decided to incorporate some of my own changes to the plot and structure of RotS, and have been inspired by other editors in making some of these choices. (Like HAL9000 and DominiCobb)
The main focus of this edit, aside from interweaving RotS and the Clone Wars finale, is to shift Anakin's concern solely from ending the war/saving Padme, to saving his entire family (Obi-Wan, Ahsoka, & Padme). To make his motivations clearer, and thus more tragic.
Previews:
Dream 1:
https://drive.google.com/file/d/1ymUUHgaeSbANgM09_HUGZBrsXfkHH3tr/view?usp=drivesdk