Author

Time

Post link
So, I've seen the first season and the first eleven episodes of the second season of Rebels (that's including the premiere TV movie), and suffice it to say, I find it incredibly meh. The potential for greatness is there, but the villains and the juvenile trappings of the writing are both incredibly lame.
I'm interested in re-writing Rebels to give it more gravitas, but I'll probably never get around to doing so. In lieu of that, here are my ideas on a revamped Rebels.
GENERAL ADDITIONS/ALTERATIONS/ETC.
The title of the show would be changed from Star Wars: Rebels to Star Wars: Rebellion, in keeping with my more serious take on the subject matter.

The show would last five seasons, consisting of thirteen hour-long episodes each.

Dispensing with the incompetent stormtrooper garbage, I'd do a complete 180 with the troopers; I'd make the stormtroopers as deadly and formidible as possible – crack shots with their blasters and skilled hand-to-hand fighters – to make them credible threats to our heroes.

Universe shrinkage would be kept to an absolute minimum. While Leia and Bail would make occassional appearances – what with them being connected to the nascent Rebellion and all – that's where encounters with characters from the films would end; Lando, Tarkin, Vader, etc. would not make direct appearances in the show.

Lothal would be reimagined into a once-beautiful and prosperous world that the Empire has poisoned and is slowing killing through strip mining and exhaustion of the world's resources, a real dire place with a high mortality rate ravaged by famine, disease, murder, and rape – a place which makes Tatooine look like a paradise by comparison.

No light-slingshots.

No spinning lightsabers.
CHARACTERS
Ezra would be older, about ninteen years old. He'd start the series as someone who has become so disillusioned and jaded over the years due to the harsh, ugly life he's lived on Lothal that he's become an aloof, amoral asshole – someone who stopped caring about anyone or anything but himself long ago. It's only after he joins the crew of the Ghost that he learns to care for others and believe in a greater cause again.

Sabine would likewise receive a makeover. She'd be older – about twenty-four – and moderately muscular, someone who – while still feminine – is physically imposing, not someone you'd consider crossing. While she'd remain a former Imperial cadet who went AWOL, the whole superflous Mandalorian stuff would be jettisoned; instead of wearing Mandalorian armour, she'd wear cobbled-together elements of Imperial armour. Furthermore, while she'd remain a woman with an artistic streak, that aspect of her character would be toned down considerably; she'd work on paintings in her spare time, dye her hair, and apply henna tattoos to her arms and hands to express her creativity, but she wouldn't go around wearing Day-Glo armour or turning TIE fighters into abstract works of art.

Kanan would wield a yellow lightsaber and be in an open romantic relationship with Hera.

The Pau'an inquisitor would look like this
and weild a standard-hilt lightsaber with a blue blade.
Ahsoka would remain a part of the series, but she'd be a Sith instead of a former Jedi (in keeping with my personal canon) and she'd wield her green and chartreuse lightsabers instead of white-bladed replacements.

The Seventh Sister would be taken out of the show entirely, her role filled by the character Sariss.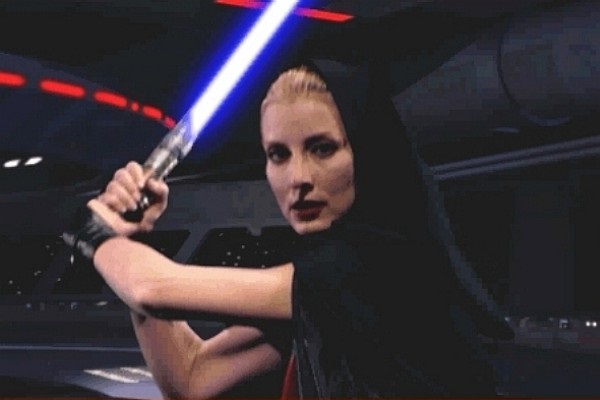 The Fifth Brother would wear a different uniform and wield a green lightsaber which can be re-configured into a razor-edged flying disc when in bladeless mode.

Jerec
would serve as a main villain later down the line, the chief inquistor to whom the Pau'an inquisitor, Sariss, and the Fifth Brother all answer to. He'd also be an old nemesis of Ahsoka's, someone she has bad history with.
The rest of the main characters would remain the same.
---
I'm exhausted for the night, so I'll leave things here for now. I'll go into more detail about where I'd take the series storywise in a follow-up post tomorrow.
"Okay, I'm goin', takin' off. See ya… bye…." — Chip Douglas
"This concludes our broadcast day. Click." — Chip Douglas