Author

Time

Post link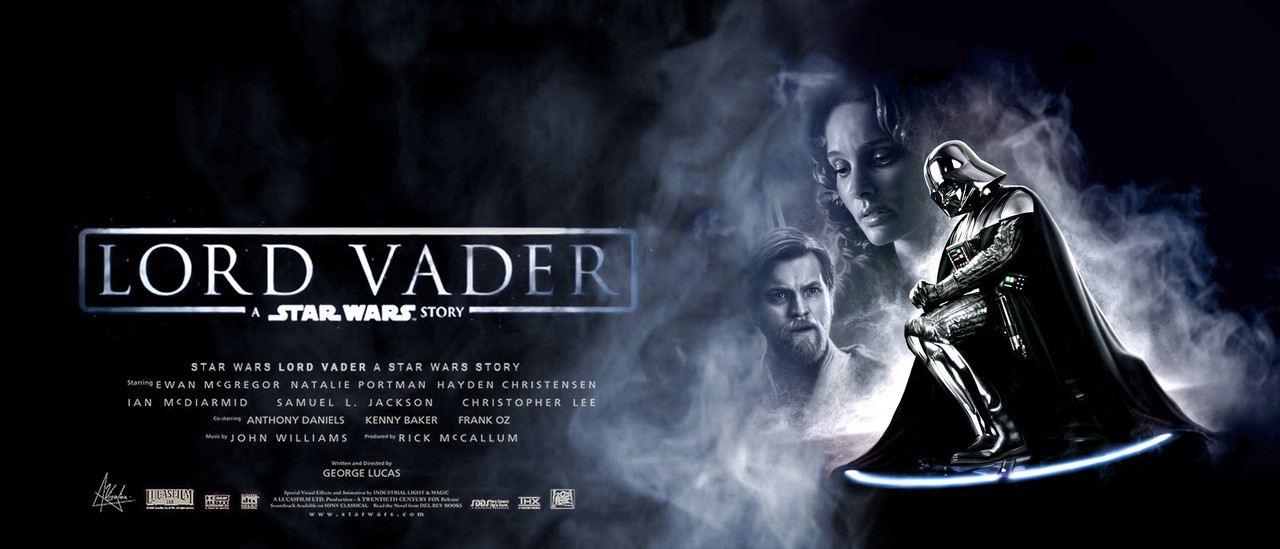 Ok, I've finally finished this edit. A concise story about the 'Chosen One' and his rise and fall to the Dark Side. All material taken from TPM and ROTS (and a small bit from a fanfilm) - one "a star wars story" movie to take the place of the prequels.
**NOT a 3-in-1. It's a Vader standalone using 20 min of TPM (prologue) and EP3.
It starts with a Prologue - about 20 minutes of young Anakin's story: Both the Jedi and the Sith sense a vergeance/disturbance in the Force and they are in a race to find the boy.
This is the story I always felt the prequels should've been… super simple. You'll notice the first few scenes are the same things happening on the Light Side and Dark Side of the Force… they both feel it and are compelled to take action. This sets up a much more meaningful confrontation between the Jedi and Darth Maul.
The prologue is about 20 minutes and very fast-paced using the best and most useful parts of TPM imo. The goal was to create Anakin's origin story in a short time that can be watched and understood by someone who has never seen Star Wars before; and for those who know the films well, it's a fun quick abridged version of young Anakin's backstory with a new spin. Oh, and Anakin barely speaks 😃 The lightsaber fight takes up about half of the prologue's 20 min runtime. The rest of the movie, after the title card, picks up with a heavily edited EP3.
The arrangement:
Prologue:
Qui Gon tells the Jedi council he has encountered a vergeance in the Force.
They postulate it may be 'the Chosen One' and tell him to bring the boy to them.
Obi wan warns Qui Gon he senses something… elusive. Qui gon tells him to relax.
Palpatine tells Darth Maul there is a disturbance and that Anakin must not become a Jedi.
Qui Gon and Obi Wan travel to Tatooine to get the boy from his mother.
Darth Maul arrives on Tatooine shortly after and sends out probes to find them.
Maul confronts them on their way back and Qui Gon escapes with Anakin.
Qui Gon and Obi wan bring Anakin before the council and they test him.
The Jedi council concludes he will not be trained and assigns them a mission to accompany the Queen to Naboo.
Qui Gon tells Anakin he can't train him but to shadow him and be mindful.
They travel to Naboo as the Queen's bodyguards where there is a brief skirmish among locals. - While accompanying the Queen, Darth Maul appears and the Jedi confront him.
I added Duel of the Fates score to the Obi wan/Maul fight for increased intensity
Qui Gon gets killed and tells Obi Wan to train the boy.
Obi wan get permission from Yoda to train Anakin.
Qui Gon funeral
::Lord Vader title card::
Open with Obi-Wan and Anakin arriving on Coruscant after the kill Dooku/Palpatine Rescue mission - exposition tells all we need to know about events prior
Cut Mace's line about Grievous being a coward and always running and hiding.
Re-cut the "I'm Pregnant" scene
Transition directly to the balcony scene.
Trimmed balcony scene to remove corniness.
Anakin's nightmare is black - no visuals.
Cut Anakin's avoidance in talking to Padme on the lower balcony, trim dialog overall.
Transition to Anakin missing the briefing scene.
Transition from Obi-Wan informing Anakin he's been summoned to Opera scene.
Cut out first half of the Opera scene.
Modify Palpatine dialog to remove both 'Darth' and 'midichlorians'
Transition directly to Anakin talking to Yoda about his dreams of death.
Trim out dialog which makes it difficult to believe Yoda can't see the underlying problem/threat in Anakin.
Transition to Palpatine's office.
Trim Anakin's hesitancy about promotion.
Transition to deleted scene of Yoda, Obi-Wan and Mace (slightly trimmed dialog)
Transition to Jedi Council informing Anakin he won't be a Master
Tone down Anakins angry reaction
Re-cut reaction shots so that Obi-Wan gives Anakin a disapproving glare, and Anakin sees it.
Transition from Obi-Wan delivering Anakin's assignment to Deleted Scene in Bail's office (trim dialog)
Transition to Gunship carrying Yoda, Mace and Obi-Wan (trim dialog about not trusting Anakin)
Transition to Grievous/Palpatine sequence. Uncut.
Transition to Yoda on Kashyyk and Jedi Council meeting where Anakin reveals location of Grievous
Cut Ki-Adi Mundi stating that a Master with more experience is needed.
Cut Yoda almost getting hit.
Transition to deleted scene in Padme's apartment. Trim dialog slightly.
Transition to Anakin seeing Obi-Wan off - trim dialog.
Transition to sounds of Anakin's 2nd vision - Anakin senses the future - no visuals.
Trim dialog between Anakin and Padme about finding a new power to save her.
Transition to Obi-Wan departing Cody and his Star Destroyer
Transition to Deleted scene of Palpatine's office and the petition of the 2000
Cut dialog about sensing betrayal in Padme
Cut to Obi-Wan arriving on Utapau
Trim dialog about warriors, now is the time, and is he bringing additional warriors
Replace lizard's squawks with more threatening/less annoying creature-sounds (alla l8wrtr)
Cut out squealing Manga-Guard under fallen machinery
Re-sequenced dialog between Kenobi and Grievious
Cut Grievous taunting Kenobi when he is obviously losing.
Cut Obi-Wan's over-telegraphing his Force-push
Cut out droid scream as Grievous runs him over.
Replace Lizard audio (alla L8wrtr)
Slightly trim dialog between Palpatine and Anakin after Anakin delivers update
Tighten Kenobi chasing Grievous, remove lizard audio
Cut end of Grievous' death howl.
Slightly trim dialog between Mace and Anakin
Speed up Palpatine's attack on Jedi Masters/trim out silly aspects of Mace/Palpatine fight.
Model Palpatine/Mace/Anakin sequence after L8wrtr/Kerr's version
Heavily trim initial dialog between Anakin and Palpatine after Mace is thrown out the window
Cut "including your friend Obi-Wan Kenobi"
Replace Lizard audio as Kenobi approaches Cody, and is blasted at once Order 66 starts
Re-cut and re-score Order 66 - inter-cut Yoda sensing the deaths real-time and cut amount of time it takes Mundi's and Sacura's troops to fire on them.
Cut padawan's dialog as Anakin enters the council chamber
Cut Bail's "And so it is…"
Trim initial dialog between Padme and Anakin on her balcony.
Modify Yoda's dialog on the Tantive IV
Cut R2 popping out of Anakin's fighter
Cut Kenobi/Yoda assault on the Temple Guards
Trim Kenobi/Yoda dialog in Temple Hallway
Cut Yoda line about Clones in relation to not figuring out the re-calibration
Trim dialog between Yoda and Kenobi after watching security hologram
Cut Anakin's line about seeing her ship
Trim dialog between Padme and Anakin, more focused, eliminate his hesitancy when he says he can overthrow the Emperor.
Add crunching sound as Anakin chokes/crushes Padme's neck
Trim dialog between Kenobi and Anakin
Cut and re-sequence initial confrontation between Yoda and Palpatine. No Force-lightening, now throwing Palpatine into a chair, and first half of lightsaber fighting in the office.
Cut Anakin and Kenobi fighting on high-wire
Completely recut Yoda/Palpatine confrontation
Yoda gets up much quicker after being hit by force lightning
Yoda/Palpatine Saber duel rearranged
Cut Emperor's reaction time as Yoda hurls a pod back at him
Re-cut final Force-lightening stand-off on floating pod. Yoda is overpowered blasted off the pod, falling to the Senate floor while Palpatine remains on the Pod.
Cut Anakin 'lava surfing' - he leaps right from giant crashing platform to the one Obi wan is on
Cut 'Higher ground' conclusion, mimic L8wrtr and Corgicar's quick leap/cut
Cut Padme talking to Kenobi in the medical bed of the ship
Cut Palpatine and troops looking for Anakin and the order to get a medical capsule
Cut Padme's dying from losing the will to live, she's just dying.
Remove all Padme crying in pain and dialog,
THIS IS THE PAY OFF SCENE. Completely recut and rescored 'Birth of Vader' scene with new dialogue - Palpatine now says "Anakin… can you hear me?" to which Vader responds "Anakin Skywalker was weak… I destroyed him" (taken from Rebels) - I think this is much more of an emotional moment showing the extent to which Anakin's mind has really gone off the deep end. Anakin is gone and Darth Vader has completely taken over at this point.
Recut and rescored Padme's funeral - added funeral bells and "across the stars" theme
Replace Venator-class Star Destroyer with New VFX shot of TIE fighters and OT Star Destroyers to link up with RO and ANH and infer there were preparations behind the scenes for the Empire… in other words, Palpatine had everything ready for the takeover.
Added after-credits scene of young Krennic and Erso on Coruscant… to connect to RO
PM me for a download link.
Preview it here: https://vimeo.com/291179942
---
Mod Edit: It has come to the moderators attention that ForceGhostRecon was a previously banned member on this site - to which FGR has himself admitted.