Author

Time

Post link
Police Story has three cuts:
The extended cut that only played in Japan
The theatrical cut that played in Hong Kong and the rest of Asia
The export cut with a new score by Kevin Bassinson that played in Western countries until the advent of DVD
The export version was originally edited in English, down from the uncut dub of the theatrical cut, but there's also an elusive version with the original Cantonese dialogue.
The only release I know that uses it is the Virgin Vision PAL VHS: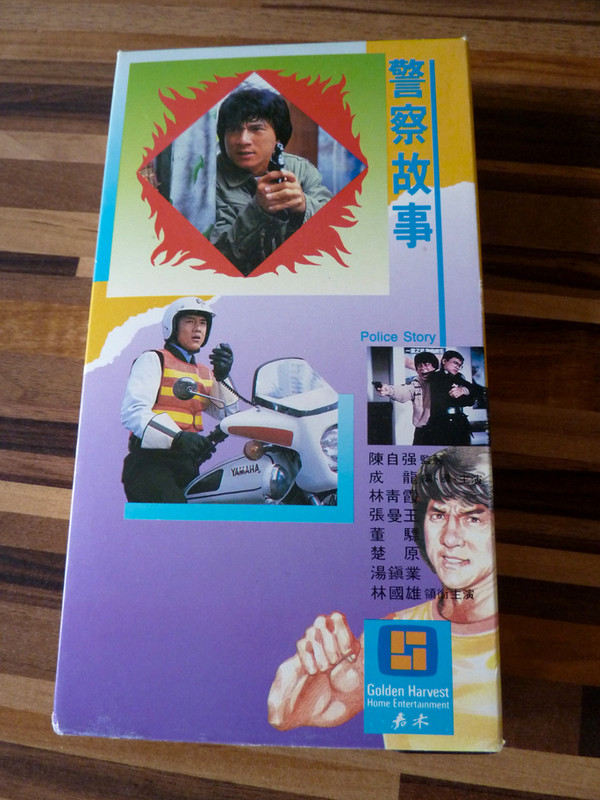 Clips from what I assume is this tape appear in an episode of Son of the Incredible Strange Film Show documenting Chan's films: https://youtu.be/U6m3kNFjdTs?t=20m54s
https://youtu.be/U6m3kNFjdTs?t=26m44s
https://youtu.be/U6m3kNFjdTs?t=38m32s
There's also a music and effects-less Spanish dub that uses the Cantonese track as a base: https://www.youtube.com/watch?v=2woPQwdLpBo
https://www.dailymotion.com/video/xtn5dz
The extended and theatrical Cantonese tracks have already received good preservation efforts. The goal of this is to have all three cuts of the film with the original Cantonese ADR available as a listening option. I'm a huge fan of Kevin Bassinson's synth score and would love to be able to watch the export version in the movie's original language.
If anybody knows somebody who has a copy, who is willing to work out some kind of capture of it, I'll be willing to pay whatever cost is needed to get this version preserved. I plan to sync it and abridged subtitles to either the SD version on the Eureka Blu-Ray or a reconstruction made using the 4K restoration.
So, a new book came out and we learned so much, and it is called, "Anguilosaurus, Killer of the Living".