Author

Time

Post link
Unfortunately, it won't be a merry one for Newtown Connecticut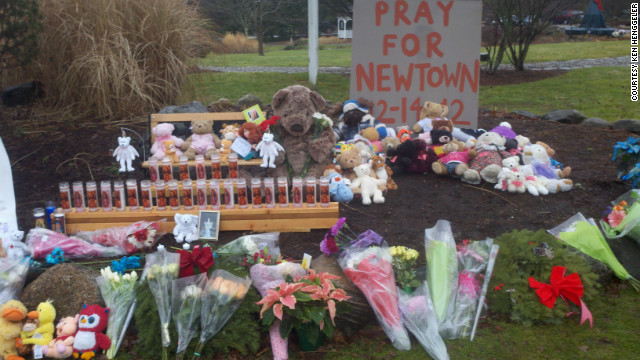 like it says in the pic, please pray for them.
I was reminded about the last two verses of "I heard the bells on Christmas Day" and I think they apply to this tragedy :
'And in despair I bowed my head
"There is no peace on earth" I said
For hate is strong,
And mocks the song
Of peace on earth good-will to men!

Then pealed the bells more loud and deep:
God is not dead, nor doth he sleep;
The Wrong shall fail,
The Right prevail,
With peace on earth good-will to men! '
So, with that in mind, here is my usual Christmas post:
MERRY CHRISTMAS EVERYONE!!!
ONE SOLITARY LIFE
He was born in an obscure village,
the child of a peasant woman.
He grew up in another obscure village,
where He worked in a carpenter shop until He was thirty.
Then for three years He was an itinerant preacher.
He never had a family or owned a home.
He never set foot inside a big city.
He never traveled two hundred miles form the place he was born.
He never wrote a book, or held an office.
He did none of the things that usually accompany greatness.
While He was still a young man,
the tide of popular opinion turned against Him.
His friends deserted Him
He was turned over to His enemies,
and went through the mockery of a trial
He was nailed to a cross between two thieves.
While He was dying, His executioners
gambled for the only piece of property He had - His coat.
When He was dead, He was taken down and laid in a borrowed grave.
Over two thousand years have passed,
and today He is the central figure for much of the human race.
All the armies that every marched and all the navies that ever sailed
and all the parliaments that ever sat
and all the kings that ever reigned,
put together, have not affected the life
of man upon this earth as powerfully as this
"One Solitary Life."
LUKE, CHAPTER 2, VERSES 1 TO 20(KJV):
1 And it came to pass in those days, that there went out a decree from Caesar Augustus that all the world should be taxed.

2 (And this taxing was first made when Cyrenius was governor of Syria.)

3 And all went to be taxed, every one into his own city.

4 And Joseph also went up from Galilee, out of the city of Nazareth, into Judaea, unto the city of David, which is called Bethlehem; (because he was of the house and lineage of David:)

5 To be taxed with Mary his espoused wife, being great with child.

6 And so it was, that, while they were there, the days were accomplished that she should be delivered.

7 And she brought forth her firstborn son, and wrapped him in swaddling clothes, and laid him in a manger; because there was no room for them in the inn.

8 And there were in the same country shepherds abiding in the field, keeping watch over their flock by night.

9 And, lo, the angel of the Lord came upon them, and the glory of the Lord shone round about them: and they were sore afraid.

10 And the angel said unto them, Fear not: for, behold, I bring you good tidings of great joy, which shall be to all people.

11 For unto you is born this day in the city of David a Saviour, which is Christ the Lord.

12 And this shall be a sign unto you; Ye shall find the babe wrapped in swaddling clothes, lying in a manger.

13 And suddenly there was with the angel a multitude of the heavenly host praising God, and saying,

14 Glory to God in the highest, and on earth peace, good will toward men.

15 And it came to pass, as the angels were gone away from them into heaven, the shepherds said one to another, Let us now go even unto Bethlehem, and see this thing which is come to pass, which the Lord hath made known unto us.

16 And they came with haste, and found Mary, and Joseph, and the babe lying in a manger.

17 And when they had seen it, they made known abroad the saying which was told them concerning this child.

18 And all they that heard it wondered at those things which were told them by the shepherds.

19 But Mary kept all these things, and pondered them in her heart.

20 And the shepherds returned, glorifying and praising God for all the things that they had heard and seen, as it was told unto them.
http://www.youtube.com/watch?v=9nrDfqoYzNo
To those that celebrate other holidays, Happy Hanukkah, Happy Winter Solstice, Happy Kwanzaa, and Happy whatever holiday you celebrate and if you don't celebrate any holiday, have a nice day. : )