If you don't know what Star War: The Third Gather: Backstroke of the West is all about, click here.
 
As suggested by ThatArtGuy, who also provided me with srt files, I have created a DVD with the Backstroke of the West subtitles. It has four subtitle options: 1. Original. 2. Backstroke V1 (F words) 3. Backstroke V2 (no F words). 4. a surprise subtitle track. There are menus with scene selections and one more surprise easter egg.
Since this project is not really considered a fan edit, it will never be availiable as a full download. For more details on why, read Q. 8b: here. So, I've created a kit and you will have to supply the NTSC R1 SWIII WS DVD. Others may work, but are untested. Included are full step by step instructions and everything you need in the rar file in the link at the bottom of this post.
 
What you'll need to supply:
Star Wars: Episode III: Revenge of the Sith official NTSC Region 1 DVD (WS or FS: FS not tested)
Program such as SmartRipper or PGCdemux to rip the video and audio from the DVD
A Windows compatible PC with probably a version of Windows XP and an NTFS file system (duh)
About 12gb free of HD space
 
optional:
DVD Shrink program if you need to compress the movie to fit onto a single layer DVD-R.
PowerDVD or similar program to watch/ preview the movie on your computer.
DVD burning program and blank DVD if you want to actually make a DVD of this. (duh again)</span>
 
Please let me know what you guys think of this!
Here it is: Backstroke of the West kit
The menus are 16x9 and when the DVD is created by the user, it is recognized by Clone DVD and DVD shrink so we can all shrink this puppy down to fit a DVD-5.
 
The download link has been updated to so that everything should work exactly as I intended now. Let me know how this turns out for everyone and if problems persist.
I suggest to rip the DVD, use SmartRippper.
 
If you have the DVD in your DVD-Rom drive, it will try to read it. It may say something about files being locked. If so, use PowerDVD (or whatever software player you have) to play the movie or a few seconds first. What I usually do is just play it and then skip around a few chapters and stuff. Smartripper should automatically find the main movie on the disc. If not, it's Title 7, program chain 1. Click on "Stream processing". Click on "none" to deselect all files on the next screen. Click the check box next to "VIDEO NTSC" and change the little selector to "demux to extra file". Do the same thing for the second audio track (English AC3 2ch). Change the target folder to your demuxed folder. Click on Start. (Start will not appear if you don't have enough HD space.)
You should end up with an ac3 audio file and and m2v video file, as well as some blank vob files and stuff. Use these m2v and ac3 files and then use the instructions provided in the download "kit".
As for a few concerns people have addressed, I didn't notice any of the subtitles going by too fast, and if so, they are like that in the original version, I haven't changed this.
The "resume" button is funny. I should have included a way to go back to the main menu. It only works if the movie has already been played, at which point it will resume form that place when the resume button is used.
 
A GREAT cover has been made by Ell the Ewok and Erikstormtrooper:
Erikstormtrooper: I shamelessly stole Ell the Ewok's original Backstroke cover and changed up the back. I added an Engrish synopsis, and provided info so that this is now specific to marioxb's conversion kit.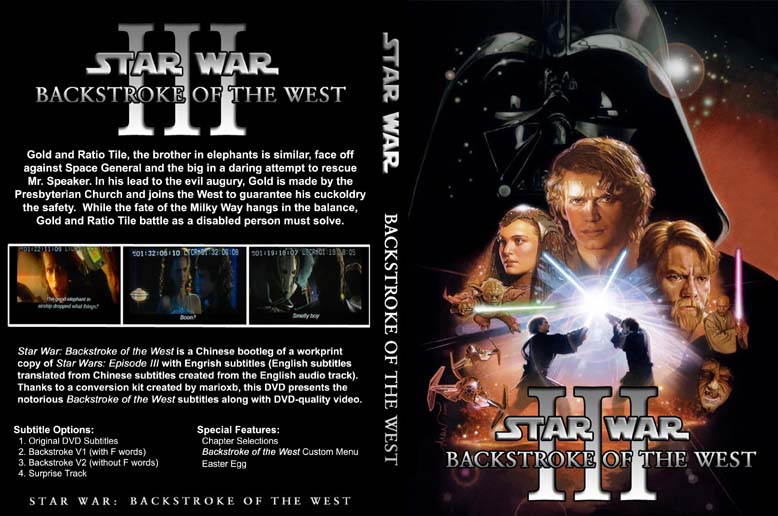 Which you can download a hi-res version here. The cover is also included in the Backstroke of the West Kit.