Author

Time

Post link
Amadeus - HD Theatrical Restoration (VERSION 3)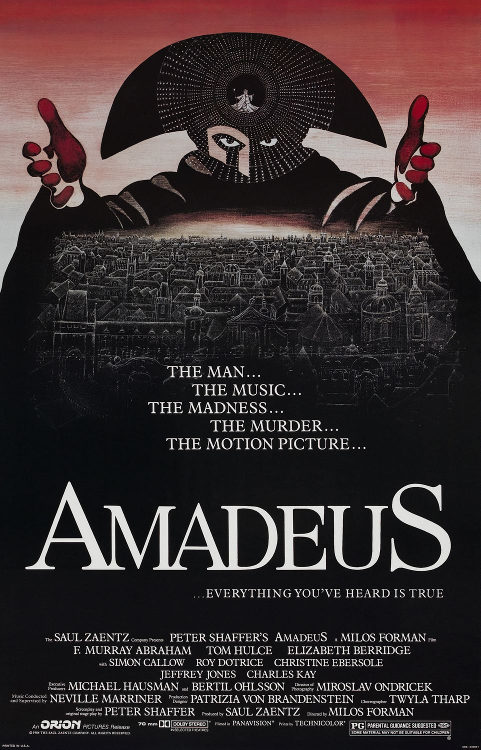 Project background:
In 2002, Warner Bros and Milos Forman created an extended "Director's Cut" of Amadeus, releasing it in theaters and later on DVD.  This extended cut added 20 minutes of footage to the film (mostly in the first half) which expanded on just how far Antonio Salieri would go to ruin Mozart.
Reactions to the extended cut were mixed.  Critics have called the additions extraneous, ruining the original editing and pacing of the film.  Mozart's two visits to the home of Schlumberg (the guy with the dogs) are the best example of that as they add nothing to the story and halt the narrative. While the theatrical cut showed Salieri sabotaging Mozart at every step, the director's cut takes it to an excessively vicious and mean-spirited extreme.
For Blu-ray in 2009, Warner Bros. released the director's cut only, largely because that HD master was available and that there was no HD master of the theatrical cut in existence.  With WB and Forman apparently disinterested in revisiting Amadeus, we may never see the original version released again.  The last American release of the original version was a flipper disc DVD in 1997.
Mission:
To reconstruct the original 160 minute theatrical cut in high definition, editing out the added scenes, while using upscaled and color-adjusted DVD footage to restore brief scenes/shots not included in the director's cut.
Working materials:
Amadeus Director's Cut Blu-ray from 2009
Amadeus Theatrical Cut DVD from 1997
Amadeus Laserdisc audio track (courtesy of stwd4nder2)
Opening Orion Pictures logo from RoboCop Blu-ray
Software used: Handbrake, Adobe Premiere, Audacity, MakeMKV, MKVToolNix, mkvmerge
Entire scenes removed:
Salieri visiting Katerina's dressing room to confirm his suspicions
Constanze pleading with Mozart to submit his samples for the teaching job
Salieri training a student before Constanze arrives with Mozart's samples
Constanze's late night visit to Salieri's home, and her grief
Salieri telling the Emperor that Mozart molested a student
Mozart visiting Salieri to ask for help with pupils
Mozart attempting to train the daughter of Schlumberg
Salieri discussing with another that Mozart is beyond help
Mozart visiting Schlumberg again to ask for money
Extended cut ending credits
Several extended scenes were edited to their original length, most notably Salieri telling Constanze about "the price".  94 seconds of upscaled DVD footage (plus ending credits) were used to replace shots either absent or unusable from the director's cut.  Overlays from the DVD were used to obscure the "Director's Cut" title, as well as a castmember added to the credits in the director's cut.
Technical specs (Version 3):
Container: MKV
Video: 2.35:1 1080p 23.976fps AVC @22Mbps VBR
Audio 1: PCM Stereo (source: 1996 Laserdisc)
Audio 2: 5.1 AAC (source: 1997 DVD)
Audio 3: Dolby 2.0 Isolated score mix (source: 1997 DVD)
Length: 2:39:58
Size: 26.9 GB
Subtitles: None
Chapters: 30
Update 12/15/22: Dolby Digital 5.1 and FLAC 5.1 tracks also available as a separate download if you wish to swap out the AAC. (Same audio mix)
Update 1/20/23: Laserdisc stereo track from Japanese release now available as a separate download, courtesy of Yarp
Changes from Version 2:
Better encode with higher bitrate. V2 had noticeable macroblocking.
Less squeezed aspect ratio. The Blu-ray resolution is 1920x794 which is atypically wide 2.42:1. Faces looked squished, so this is being slightly stretched to 1920x804 (more typical 2.39:1)
Additional 20 seconds of footage from the DVD are used to restore shots replaced by alternate takes from Director's Cut (reaction shot of priest, Mozart working on Figaro at the pool table while his father and wife argue)
DVD shots cleaned up to better match surrounding footage: dirt/scratch removal, color timing and contrast adjustments
New sound mix included: Laserdisc stereo track [PSE96-073] courtesy of stwd4nder2
Replaced opening Orion Pictures logo with better quality version (RoboCop Blu-ray)