Hi Matt_Stevens:
I have been looking into getting the DYRL? BD edited, too.
Here are all the changes that I have been able to find on the DYRL? BD.
1. An unnecessary opening title card about the back story of the movie. The back story was already explained in the movie by one of the main characters, Lynn Minmay.
00:00:12 - 00:00:27 Title Card (BD dyrl, 15 seconds)
2. Two censored 1 second gore scenes.
a. Milia's Queadluun-rau mecha crushing the head
of Zentradi soldier
00:44:45 - 00:44:46 (BD dyrl)
00:44:44 - 00:44:45 (remastered DVD dyrl, 1 second)
http://i291.photobucket.com/albums/ll282/kaarma33/DYRL%20Censored/vlcsnap-2013-04-30-18h10m43s170.png
b. During the ending battle aboard the Macross fortress, one of the civilians is decapitated.
01:39:50 - 01:39:51 (BD dyrl)
01:39:44 - 01:39:45 (remastered DVD dyrl, 1 second)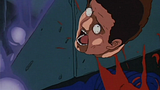 http://i291.photobucket.com/albums/ll282/kaarma33/DYRL%20Censored/vlcsnap-2013-04-30-22h47m27s112.png
3. Two music changes have been done for the new 5.1 audio on the DYRL? BD:

a. At the moment when Lynn Minmay's commits herself to singing the DYRL? song, the background music of "eternal love" or "abareru kokoru" has been removed.
01:37:07 - 01:37:51 (BD dyrl, song is missing)
01:35:27 - 01:36:11 (remastered DVD dyrl stereo, 44 seconds)
b. When Lynn Minmay raises up her arm to show Misa Hayase that the DYRL? lyrics translated Misa has helped to win the war, the DYRL? song piano reprise has been removed.
01:48:22 - 01:48:44 (BD DYRL, song is missing)
01:48:14 - 01:48:35 (remastered DVD dyrl, 20 seconds)