Highly recommend anyone interested to check out the panel. Jon Favreau and Dave Filoni LOVE Star Wars and have put their hearts and souls into it.

Not only that, one of Favreau's goals was to try to appeal to every kind of Star Wars fan so he's put in as much stuff from the last 40 years of Star Wars into it as he could. He specifically called out that he's recanonized a ton of EU material in the series.

My personal favorite thing that I've seen so far from the series are the Blurrgs which originally appeared in the Ewok movie Battle For Endor! But there's so much more in there.
It also had a callback to Boba Fett's first apperance in the Holiday Special cartoon;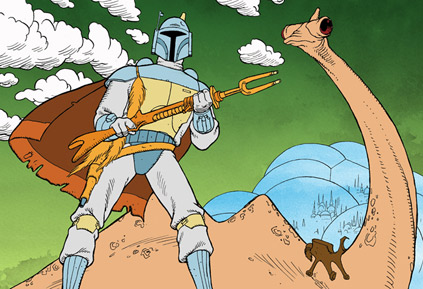 Favreau posted a photo a while back with the sound-fork thing, but the sizzle reel showed "The Mandalorian" riding a Dewback in a similar pose to the cartoon.